Spark Z4a

• Generator of low-intensity electromagnetic oscillations electric and induction field
• Exogenous effect
• Induction effect
+ Software «LIFE commander»
SPARK Z4a
What is Bioresonance Therapy Device?
Bioresonance Therapy Device is a therapy by electromagnetic oscillations that resonates with structures of the body. The impact can be exercised at the cellular level as well as at the level of an organ, a system of organs and at the level of the whole body, since different levels are characterized and managed by avarious frequency-wave parameters.
Product Description:
Bioresonance Therapy Device will help you to improve your health and immune system, and prevent diseases in time. it reproduces informational signals of our body. Electromagnetic oscillations of low intensity which are generated by the device cause resonance response in the organism. Thus, the following processes take place in the body: activation of physiologic oscillations which correspond to healthy cells and organs, and neutralizations of pathologic oscillations caused by ill cells and tissues, viruses, bacteria and fungi. As a result, the organism restores normal functioning of ill organs and homeostasis of its systems.
Principle of operation SPARK Z4a is the destructive action of electromagnetic waves of a certain frequency, shape and amplitude. The technical capabilities of the device allow the use as electrical component signal at external electrodes, and the inductive component, using the built-in or an external inductor.
By using the licensed software 'Life Commander' user can personally create the necessary frequency program.
The device can be supplied cards micro SD with sets of different frequency programs. One of the options card contains 470 frequency programs of symptomatic and preventive regimes.
SPARK Z4a - are the devices for exogenous, endogenous and induction therapy used in human. The devices and methods of their use are universal in the treatment of a wide variety of diseases and relieving of many symptoms and syndromes with non-drug methods, and it is compatible with any other therapy methods. The devices are designed for the use in medical facilities (medical centers, rehabilitation centers, health centers, etc.), as well as at home under the specialist's supervision.
EXOGENOUS BIORESONANCE THERAPY
It is a hardware (drug-free) method of treating diseases caused by pathogenic fl ora. Such diseases include a group of diseases caused by: bacteria, spirochetes, pathogenic fungi, viruses, protozoa, parasitic worms (helminths) and arthropods (insects).

ENDOGENOUS BIORESONANCE THERAPY
This is the therapy with the help of natural oscillations of the person. The purpose of this therapy is to activate the body's immune system. No external energy is used. The fundamental principle of endogenous bio - resonance therapy is «inversion»: oscillations taken from the patient's body go into the device input, then are «inverted», amplifi ed and fed from the device output back to the patient. At the same time the pathological oscillations are suppressed, and the normal physiological ones are just slightly weakened, which is a trainer's factor. The electromagnetic structure of the patient immediately reacts to these therapeutic signals. This process is repeated, suppressing and destroying pathological oscillations and gradually restoring the physiological dynamic balance.

INDUCTION BIORESONANCE THERAPY
This is the therapy with external signals with which individual organs and systems of human body are in resonance, for example, with magnetic or electric fi elds, modulated with the signals, that have corresponding resonance frequency amplitude characteristics, with the help of the specialized generators.
The memory card with a set of frequencies for antiparasitic, antibacterial, antiviral, antifungal, antiprotozoal and anti-mite therapy, developed on the basis of Dr. Royal Rife and Dr. Hulda R. Clark works can be supplied on request.And also: symptomatic therapy modes, prophylactic modes for chronic conditions and syndromes.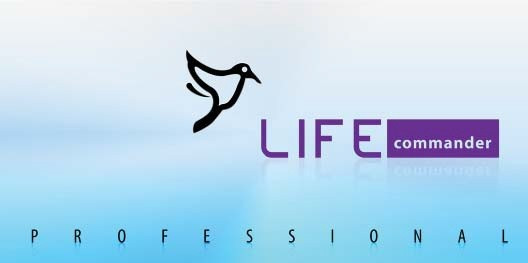 LIFE COMMANDER PROFESSIONAL
Life Commander Professional Software allows you to record frequency packages which are chosen from an extensive list of ready programs (about 3500 programs) into the device.
The program also allows the users to create their own frequency packages setting them as mono-frequencies; and set the
frequency range for their «swinging» during a specifi ed time and directing them independently both to the electrodes, and
to the inductor.
Device Spark Z4a (hereinafter referred to as the device) is a portable electronic device programmed to generate low-intensity electromagnetic frequencies and induction fi eld.
Two built-in independent generators:
- A generator with the output to the electrodes (range: 1 to 3,000,000 Hz), and the modulation option;
- A generator of low intensity electromagnetic fi elds with the output to the inductor (range: 1 to 25000 Hz);
It is possible to generate frequencies both with one of the generators, and simultaneously with two of them with independent frequency settings within the
appropriate range.
Specification

| | |
| --- | --- |
| Brand Name: | Spark Z4a |
| Warranty: | One Year |
| Language: | English, German, Russian, Polish, Bulgarian, etc |
| Application: | Clinics, families, therapists |
| Funkction: | Low frequency therapy devices |
| Frequency range | 1...3'000'000 Hz |
| Current consumption | < 20 mA |
| Power supply | Built-in rechargeable battery 1200 mАh |
| Time of continuous operation of the device * | 8 hours |
| Dimension/weight | 105х68х20 mm / 112 g |
| Charging the battery | Through USB |
| Place of oridgin: | Ukraine |
* at a level of intensity not above the average or normal distribution of frequencies when the load is standard (50-100 ohms)
The interface is in different languages, including: English, German, Polish, Bulgarian, Russian and others.
 
The interface of the device is multilanguage !!! On this page, the price is indicated in UAH in the national currency of Ukraine.
You can make an order from any country in the world by writing to the manager in Viber or Telegram +380633612116;
 WhatsApp +380976081064;
email artlife.ukr.com@gmail.com; or leave your contact on the order form on the site so that the manager will contact you
Application:
Bioresonance Therapy Device is definite in the following cases:  Functional disorders of different genesis;
Diseases of central organs, central nervous system and sense organs;
Diseases of vegetative nervous system;
Different pains, pain syndromes of various localizations and genesis;
Diseases of cardiovascular system;
Diseases of respiratory system;
Diseases of digestive system;
Diseases of skin and subcutaneous tissues;
Diseases of musculoskeletal system;
Diseases of urinary system and reproduction; and all kinds of ailing wounds, injuries and ulcer.
Bioresonance Therapy Device is contraindicated in the following cases:
blood clotting;
pregnancy (1st trimester);
benign and cancerous tumors (allowed only under supervision of a highly qualified doctor);
babies that are younger than one year old (administration is allowed only under supervision of a physician);
existence of transplanted organs (allowed under supervision of a doctor);
existence of the implanted electrocardiostimulator;
Epilepsy (episode), abrupt attack;
Congenital defects of central nervous system;
Major severe Psychic disorder or intoxication and other diseases.
Individual intolerance to electric current (if hand electrodes are used);
Possibilities of Bioresonance Therapy Device:
Bioresonance Therapy Device has a database of treating programs which is divided into certain usual categories from therapeutic to anti parasitic etc.
You may review units of frequencies that compose programs.
There is possibility to set time of frequency in each complex's program separately.
You can relocate and delete programs inside the complex.
You may create and edit own programs.
The best part of Bioresonance Therapy Device is that you can do whatever you like for example watching television or movies, reading books & novels, doing office work, surfing the internet, listening to the music and data entries during the therapy.
Bioresonance Therapy Device is safe, non – invasive and super effective.
Ponder contraindications linked to usage of device noted in instructions! Ask your physician for advice!
How 
Bioresonance Therapy Device SparkZ4a
 should be used?
It is very easy and convenient to use Bioresonance Therapy Device. After switching on the device, you should select language,  select  desired complexes of programs, select on them and then switch on your desired complex.
Once the program is started you can do anything you want to do without giving consideration on the working of the device. Since the device has petty weight and small proportions, you can take it with you anywhere you go.
It's so easy to use that even a child can learn how to operate the device that's why it has been advisable to use it for kids and their health problems.
Certifi cate of state registration for medicinal product № 6392/2007
Software patent № 5116 from 13.08.2012